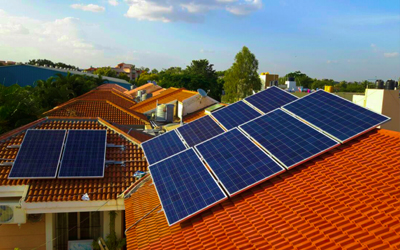 Everyone knows how to buy commercial products with EMI / loan. But do you know how to buy a solar system on loan? Nowadays, loans / EMI options are more convenient for buying and owning commercial products. Likewise, buying a solar system is the same as buying any other product.
There are two ways to get a loan on a solar system.
Buy solar panels on EMI
By home improvement loans
Anyone with a credit card can easily get the EMI option on the solar system, but do debit card holders have this facility? The answer is yes
1. EMI with Debit/ Credit Card
Credit card holders have the exclusive right to easy access to EMI payment options for most loans, including the solar system. On the other hand, it is not easy for debit card users.
The case of debit card holders is different. The probability of getting a loan approved is very small, about 0.02%. Approval is based on the bank's internal database and cardholder documents. Banks like SBI, HDFC Bank, Axis Bank, ICICI Bank, Kotak Mahindra Bank and Federal Bank have been given credit facilities to check their creditworthiness criteria.
If you are an HDFC customer, you need to send an SMS
DCEMI Debit Card Number Last Digits> 56667. The customer can get the loan status from the number registered with the bank.
Similarly, other banks:
- SBI Bank – SMS DCEMI to 567676 from your registered mobile number
- ICICI Bank – SMS DCEMI to 5676766
- Axis Bank - SMS DCEMI to 5676782
- Kotak Bank - SMS DCEMI to 5676788
- Federal Bank - SMS DCEMI to 9008915353 or give a missed call to 7812900900

2. Home Improvement Loan from the Bank
Some banks, such as the State Bank of India, offer loans of up to Rs 1 lakh for home improvements at an interest rate of around 8%. The loan term is 4-5 years or more. A customer can get such loans to set up a solar system.
A home improvement loan involves several steps,
The customer needs a quotation from a trusted solar company. The documents need to be checked by the bank officials, after which the loan can be sanctioned.
If approved, the bank will proceed to transfer 80% of the total loan directly to the account of the solar company. This may take 5 to 7 working days.
After the installation is completed and the customer sends a NOC to the company, the bank will transfer the remaining 20% to the company account.